AtomStack P7 M30 Laser Engraver DIY Eye Protection Engraving Cutting Machine With F30 Air Assist Set
Style:
Laser Engraver With F30 Air Assist Set ( 50% OFF )
USA: US in stock, ships in 1 day, deliver in 2 to 5 days, EU: Oversea in stock, ships in 1 day, deliver in 7 to 15 days
P7 M30 Specifications:   
| | |
| --- | --- |
| Engraving size | 200*200mm/7.87*7.87  |
| Carving material | wood bamboo cardboard plastic leather MDF slate lacquered metal mirror stainless steel |
| Cutting material | cardboard non-woven fabric thin wood chips acrylic some thin plastic sheets sponge MDF leather |
| Machine power | 30W |
| Laser output optical power | 5W |
| Laser wavelength | 455±5nm |
| Engraving accuracy | 0.01mm |
| Focusing method | Fixed-focus laser no focusing |
| Laser protective cover | There is a protective cover on the laser to protect the user's eyes and there is no need to wear additional protective glasses. At the same time prevent pets from scratching the laser spot |
| Operating software | LaserGRBL LightBurn support for Win XP/Win 7/Win 8/XP/Win 10 system |
| Supported file formats | NC BMP JPG PNG DXF  |
| Data transfer method | USB connection |
| Power supply | International standard power input: 100-240V AC 50/60Hz output: 12V 5A |
| Certification | CE FCC RoHS FDA PSE |
P7 M30 Features:
1. Eye protection flame retardant filter panoramic glass: The flame retardant filter panoramic glass can filter 97% of ultraviolet light which is very good for your eyes. You and the people around you don't need to wear goggles and you can watch the laser engraving clearly. Reduce the cost of your goggles and the inconvenience of wearing goggles the glass is flame retardant and safer to use. 
2. Sturdy and easy-to-install structure design: All-aluminum alloy anodized structure design makes the machine more firm and durable while improving the accuracy of engraving portable all-metal structure 85% pre-assembled and can be installed in 5 minutes.  
3. Upgraded high-performance fixed-focus laser: It can be engraved without focal length adjustment and the laser focus area is about 50% smaller than other lasers; the laser power of up to 5.5W can cut thick wood acrylic and rubber materials; at the same time it can engrave stainless steel and ceramic materials (need to be painted black).
4. Extensive compatibility: The machine is compatible with various mature engraving software such as LaserGRBL LightBurn supports for Win XP / Win 7 / Win 8 / XP / Win 10 also supports for Mac system (LightBurn) engraving file format supports for NC BMP JPG PNG DXF etc. 
5. Precise scale line axis: There are precision scale lines on the X axis and Y axis which is convenient for you to measure the length quickly. The 200*200mm large-area engraving range can meet your various engraving needs.
6. Integral screw rod: The machine adopts integral screw rod instead of combined coupling. The stepping motor and screw rod are integrated which makes the movement of the laser more accurate and the coupling more durable. 
7. New laser with knob: It is more convenient and quick to adjust the height of the laser. 
8. Color gift box packaging: More beautiful and more convenient for gift giving.
F30 Air Assist Specifications:  
Air Assist Kit:
Net weight: 1kg
Gross weight: 1.2kg
Single unit outer packing size: L 220*W 100*H 95mm/8.66*3.94*3.74 
F30 Air Assist Features: 
1. AtomStack air-assisted accessories equipped with 10-30L/min adjustable airflow can effectively remove the smoke and dust generated in the process of laser cutting/engraving prevent the smoke and dust from causing laser energy attenuation ensure the stability of laser energy and make your engraving/cutting works can achieve the best effect.
2. AtomStack air-assisted accessories powerful airflow can quickly reduce the surface temperature of the cutting/engraving object prevent excessive burning and make the cutting edge cleaner and smoother.
3. Only 60dB noise is generated during the working process which is similar to the volume of household electric fans when working giving you a quiet laser engraving and cutting environment.
4. Easy to install and use no need to buy additional accessories just two steps to install and use.
5. Compatible with all AtomStack engraving machine models.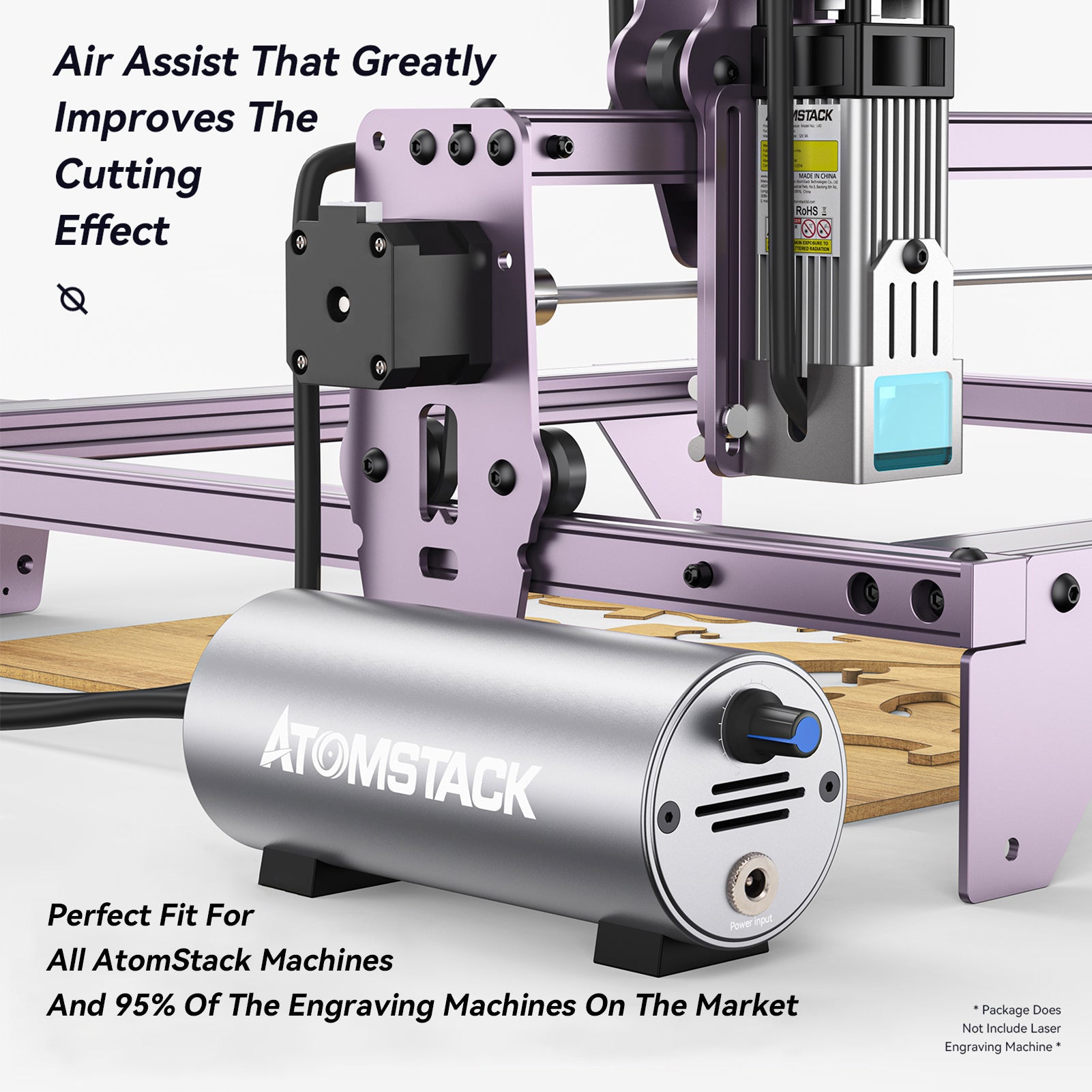 Shipping Policy
Shipping Time
All products (except the ones marked as "pre-order" in their product titles) you purchase on www.atomstack.com  will be delivered to the address of the order within 5 - 30 days (the delivery time will be depending on different shipping methods or warehouses)
For pre-order items, we will deliver within 30 - 40 days.
For refurbished items, we will deliver within 3 - 20 days. 
*All Delivery time is estimated, and will longer than expected due to custom clearance, invalid addresses, bad weather and other reason that may slow down the progress irresistibly. Please contact our customer service at official@atomstack.com for more accurate information.  
Once customers' orders are shipped, we the tracking number we provided in the notification email, customers can tracking their shipping routing information at: https://atomstack.com/tools/order_tracking, or the official site of the courier.
Custom Duty
We will ship the products from Shenzhen China while the product is out of stock in US, EU or other warehouses, in this case, we will cover the 100% custom fee for the customer who is located in European Union and North America when the shipping method is non-Express, otherwise, customer should pay all custom fee by themselves.  
Click here to view more detailed shipping policy
Warranty Policy
Standard One Year Warranty for laser machines, and 6 months for laser modules.
AtomStack warrants a product to be free from defects in workmanship and materials, under normal indoor use and conditions, for a period of one year for the original invoice date.
This warranty is non-transferable and proof of purchase from us or an authorized dealer is required for warranty service.
What Does This Warranty Cover?
We warrant that the Products are free from defects in materials and workmanship under normal use and use in accordance with the respective Product user manual, during the Warranty Period (defined below). Please refer to the Instructions inside each package for a description of proper use and care of the unit.
We agree, at its option during the warranty period to furnish a refurbished or replacement product of equal value in exchange without charge (except for a fee for handing, packing, and insurance which will be incurred by the customer). Such replacement is subject to verification of the defect or malfunction and proof of purchase as confirmed by showing the model number on the original dated sales receipt.
What Does This Warranty Not Cover?
This Warranty does not cover damages directly or indirectly arising or resulting from or during:
Damage resulting from misuse, abuse, negligence, accidents, or shipping damage.
Any condition resulting from incorrect or inadequate maintenance or care.
Use with another product or other damage or loss suffered by the use or combination of any other item.
Damages incurred during improper or inadequate maintenance.
Repairs by an unauthorized service technician.
Open Box & Clearance Items
Open Box items are products that have damaged packaging or are otherwise not suitable to be sold as new. All items are tested to be working by a member of our team.
Open Box items come with a 6-month warranty instead of the standard 12 months warranty and are not eligible for any warranty extension offered to new products. We will not accept returns of Open Box items due to cosmetic damage or other non-performance-related issues. All sales of Open Box items are final and not eligible for a return or refund.
In case of arrival defects, reach out to official@atomstack.com for swift replacements.